Шаблоны для blogger. Коллекция 2014
При создании блога на blogger являются доступными некоторые стандартные шаблоны, но при желании в интернете можно найти множество других симпатичных шаблонов. Большинство из них на английском языке, видимо потому, что blogger не очень распространен среди наших соотечественников.
Вот несколько ссылок, где в виде списка перечислены некоторые шаблоны:
45 Best Free Blogger Templates 2014
http://designscrazed.com/best-free-blogger-templates/
А вот несколько шаблонов, которые здесь мне наиболее приглянулись:
LepontoMag Free Blogger Template
LepontoMag Blogger Template is a Beautiful Business Blogger Template with 2 Columns, Right Sidebar, 3 Columns Footer, Featured Content Slider, Top Drop down Menus and Social Buttons.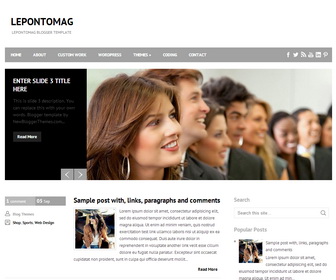 Demo
Download
Sorbet
A blogger template which seems to be inspired by wordpress hexa theme which i have used recently. This theme is clean and responsive with more focus on typography, content sidebar.
Demo
|
Download
Moments Blogger Template
A responsive personal blog style template with two columns for each navigation menu on the left and right sidebar.
Demo
|
Download
Flat Blue Magazine Template
A clean flat magazine template colored in blue is just perfect for latest designs trends.
Demo
Download
Шаблоны blogtipsntricks.com
http://www.blogtipsntricks.com/
Шаблоны на этом сайте в целом симпатичные, только на страницах шаблонов жестко заданы некоторые блоки с текстом или ссылками, которые хочется удалить. Для этого придется редактировать html.
Шаблоны mybloggerthemes.com
Tungsten Magazine
Tungsten is a 2 columns, magazine, fully responsive Blogger template for your blogger blog. Tungsten Blogger template has a featured content slider, drop-down navigation menu, social buttons, right sidebar and more features. - See more at: http://www.mybloggerthemes.com/2014/06/tungsten-magazine.html#sthash.xc03RfiX.dpuf
Demo
Download
Sailing Boat
Sailing Boat Blogger Template is good and free blogger templates related about beach or sea with beautiful picture at header and have some features like two columns, left sidebar, blue color for main background, rounded corners style and static page menu located above the header for main navigation menu, slider for feature post and very recommend themes for sites related about sailing or holiday. - See more at: http://www.mybloggerthemes.com/2012/07/sailing-boat.html#sthash.XZ278HF7.dpuf
Demo
Download